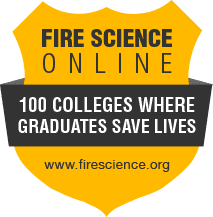 First responders are a different breed. They dive into flames, run toward gunfire, pull survivors from wreckage. They change calamity to calm and they do so very quickly. While only experience can prepare someone for emergency, every first responder got their formal training at a college or university that had committed some of their resources to educating the savers of lives.
Many schools have emergency response programs, but a few have really dedicated themselves to training the men and women who often prove to be the difference between life and death. The 100 colleges and universities below have more first response and emergency management programs than any others in the country.
To see how the schools on this list were chosen, please refer to our methodology page.
| Rank | Name | Total Enrollment | No. Of Programs | Level | City | State |
| --- | --- | --- | --- | --- | --- | --- |
| 1 | American Public University System | 88,029 | 17 | 4 Year | Charles Town | West Virginia |
| 2 | Glendale Community College | 32,962 | 16 | 2 Year | Glendale | Arizona |
| 3 | Madonna University | 6,383 | 16 | 4 Year | Livonia | Michigan |
| 4 | University of New Haven | 6,981 | 15 | 4 Year | West Haven | Connecticut |
| 5 | Eastern Kentucky University | 19,299 | 14 | 4 Year | Richmond | Kentucky |
| 6 | Drury University | 7,817 | 14 | 4 Year | Springfield | Missouri |
| 7 | Point Park University | 4,828 | 14 | 4 Year | Pittsburgh | Pennsylvania |
| 8 | Mesa Community College | 41,836 | 13 | 2 Year | Mesa | Arizona |
| 9 | Southwestern College | 25,907 | 13 | 2 Year | Chula Vista | California |
| 10 | NorthWest Arkansas Community College | 12,190 | 13 | 2 Year | Bentonville | Arkansas |
| 11 | Utah Valley University | 40,697 | 11 | 4 Year | Orem | Utah |
| 12 | Macomb Community College | 35,631 | 11 | 2 Year | Warren | Michigan |
| 13 | Saint Leo University | 26,033 | 11 | 4 Year | Saint Leo | Florida |
| 14 | Midland College | 11,695 | 11 | 4 Year | Midland | Texas |
| 15 | Arkansas State University-Beebe | 6,973 | 11 | 2 Year | Beebe | Arkansas |
| 16 | Pima Community College | 56,916 | 10 | 2 Year | Tucson | Arizona |
| 17 | Florida State College at Jacksonville | 49,670 | 10 | 4 Year | Jacksonville | Florida |
| 18 | Santa Rosa Junior College | 36,845 | 10 | 2 Year | Santa Rosa | California |
| 19 | Northeastern University | 36,462 | 10 | 4 Year | Boston | Massachusetts |
| 20 | University of Akron Main Campus | 32,183 | 10 | 4 Year | Akron | Ohio |
| 21 | Southern Illinois University Carbondale | 22,814 | 10 | 4 Year | Carbondale | Illinois |
| 22 | Phoenix College | 21,392 | 10 | 2 Year | Phoenix | Arizona |
| 23 | Butte College | 17,877 | 10 | 2 Year | Oroville | California |
| 24 | Scottsdale Community College | 17,702 | 10 | 2 Year | Scottsdale | Arizona |
| 25 | Yavapai College | 12,973 | 10 | 2 Year | Prescott | Arizona |
| 26 | Kansas City Kansas Community College | 11,017 | 10 | 2 Year | Kansas City | Kansas |
| 27 | Jefferson College | 8,114 | 10 | 2 Year | Hillsboro | Missouri |
| 28 | Ogeechee Technical College | 4,468 | 10 | 2 Year | Statesboro | Georgia |
| 29 | Miami Dade College | 99,232 | 9 | 4 Year | Miami | Florida |
| 30 | Central Texas College | 48,781 | 9 | 2 Year | Killeen | Texas |
| 31 | St Petersburg College | 43,534 | 9 | 4 Year | Largo | Florida |
| 32 | Palm Beach State College | 43,530 | 9 | 4 Year | Lake Worth | Florida |
| 33 | Sinclair Community College | 36,470 | 9 | 2 Year | Dayton | Ohio |
| 34 | Columbia College | 30,588 | 9 | 4 Year | Sonora | California |
| 35 | University of Toledo | 25,597 | 9 | 4 Year | Toledo | Ohio |
| 36 | Southwestern Illinois College | 24,685 | 9 | 2 Year | Belleville | Illinois |
| 37 | Pikes Peak Community College | 21,987 | 9 | 2 Year | Colorado Springs | Colorado |
| 38 | Truckee Meadows Community College | 18,405 | 9 | 2 Year | Reno | Nevada |
| 39 | Del Mar College | 17,098 | 9 | 2 Year | Corpus Christi | Texas |
| 40 | Paradise Valley Community College | 16,046 | 9 | 2 Year | Phoenix | Arizona |
| 41 | Amarillo College | 15,823 | 9 | 2 Year | Amarillo | Texas |
| 42 | Red Rocks Community College | 15,229 | 9 | 2 Year | Lakewood | Colorado |
| 43 | Century Community and Technical College | 15,219 | 9 | 2 Year | White Bear Lake | Minnesota |
| 44 | Lincoln Land Community College | 14,666 | 9 | 2 Year | Springfield | Illinois |
| 45 | Georgia Northwestern Technical College | 10,411 | 9 | 2 Year | Rome | Georgia |
| 46 | Colorado Mesa University | 10,010 | 9 | 4 Year | Grand Junction | Colorado |
| 47 | Southern Crescent Technical College | 9,892 | 9 | 2 Year | Griffin | Georgia |
| 48 | Hennepin Technical College | 9,751 | 9 | 2 Year | Brooklyn Park | Minnesota |
| 49 | Alvin Community College | 8,787 | 9 | 2 Year | Alvin | Texas |
| 50 | Schenectady County Community College | 8,640 | 9 | 2 Year | Schenectady | New York |
| 51 | Georgia Piedmont Technical College | 8,061 | 9 | 2 Year | Clarkston | Georgia |
| 52 | Richland Community College | 7,559 | 9 | 2 Year | Decatur | Illinois |
| 53 | Odessa College | 7,551 | 9 | 2 Year | Odessa | Texas |
| 54 | Lanier Technical College | 6,921 | 9 | 2 Year | Oakwood | Georgia |
| 55 | College of the Mainland | 6,235 | 9 | 2 Year | Texas City | Texas |
| 56 | Houston Community College | 92,869 | 8 | 2 Year | Houston | Texas |
| 57 | Tarrant County College District | 74,833 | 8 | 2 Year | Fort Worth | Texas |
| 58 | University of Maryland-University College | 59,200 | 8 | 4 Year | Adelphi | Maryland |
| 59 | Oakland Community College | 46,181 | 8 | 2 Year | Bloomfield Hills | Michigan |
| 60 | Hillsborough Community College | 40,213 | 8 | 2 Year | Tampa | Florida |
| 61 | Palomar College | 39,116 | 8 | 2 Year | San Marcos | California |
| 62 | San Antonio College | 36,718 | 8 | 2 Year | San Antonio | Texas |
| 63 | Virginia Commonwealth University | 36,401 | 8 | 4 Year | Richmond | Virginia |
| 64 | George Washington University | 29,887 | 8 | 4 Year | Washington | District of Columbia |
| 65 | Seminole State College of Florida | 26,884 | 8 | 4 Year | Sanford | Florida |
| 66 | Blinn College | 25,552 | 8 | 2 Year | Brenham | Texas |
| 67 | Chattahoochee Technical College | 20,402 | 8 | 2 Year | Marietta | Georgia |
| 68 | Guilford Technical Community College | 19,442 | 8 | 2 Year | Jamestown | North Carolina |
| 69 | University of Massachusetts-Lowell | 18,354 | 8 | 4 Year | Lowell | Massachusetts |
| 70 | Chandler/Gilbert Community College | 17,938 | 8 | 2 Year | Chandler | Arizona |
| 71 | North Dakota State University-Main Campus | 17,001 | 8 | 4 Year | Fargo | North Dakota |
| 72 | Universidad Del Este | 15,864 | 8 | 4 Year | Carolina | Puerto Rico |
| 73 | College of Southern Idaho | 13,727 | 8 | 2 Year | Twin Falls | Idaho |
| 74 | Barton County Community College | 13,683 | 8 | 2 Year | Great Bend | Kansas |
| 75 | West Georgia Technical College | 12,507 | 8 | 2 Year | Waco | Georgia |
| 76 | Wharton County Junior College | 10,535 | 8 | 2 Year | Wharton | Texas |
| 77 | Mohave Community College | 9,558 | 8 | 2 Year | Kingman | Arizona |
| 78 | Wiregrass Georgia Technical College | 9,008 | 8 | 2 Year | Valdosta | Georgia |
| 79 | Western Iowa Tech Community College | 8,802 | 8 | 2 Year | Sioux City | Iowa |
| 80 | Upper Iowa University | 8,638 | 8 | 4 Year | Fayette | Iowa |
| 81 | Durham Technical Community College | 8,625 | 8 | 2 Year | Durham | North Carolina |
| 82 | Northland Pioneer College | 8,054 | 8 | 2 Year | Holbrook | Arizona |
| 83 | Tiffin University | 7,815 | 8 | 4 Year | Tiffin | Ohio |
| 84 | Lewis University | 7,740 | 8 | 4 Year | Romeoville | Illinois |
| 85 | Albany Technical College | 7,029 | 8 | 2 Year | Albany | Georgia |
| 86 | Three Rivers Community College | 6,832 | 8 | 2 Year | Poplar Bluff | Missouri |
| 87 | Eastern New Mexico University-Roswell Campus | 6,761 | 8 | 2 Year | Roswell | New Mexico |
| 88 | Hill College | 6,371 | 8 | 2 Year | Hillsboro | Texas |
| 89 | Howard College | 6,199 | 8 | 2 Year | Big Spring | Texas |
| 90 | Black River Technical College | 3,750 | 8 | 2 Year | Pocahontas | Arkansas |
| 91 | Siena Heights University | 3,207 | 8 | 4 Year | Adrian | Michigan |
| 92 | Southeast Arkansas College | 3,101 | 8 | 2 Year | Pine Bluff | Arkansas |
| 93 | South Arkansas Community College | 2,503 | 8 | 2 Year | El Dorado | Arkansas |
| 94 | Austin Community College District | 77,953 | 7 | 2 Year | Austin | Texas |
| 95 | Broward College | 60,085 | 7 | 4 Year | Fort Lauderdale | Florida |
| 96 | University of Florida | 58,082 | 7 | 4 Year | Gainesville | Florida |
| 97 | College of DuPage | 48,128 | 7 | 2 Year | Glen Ellyn | Illinois |
| 98 | City College of San Francisco | 46,543 | 7 | 2 Year | San Francisco | California |