Fire inspectors work to prevent fires and save lives. As an inspector, you'll be responsible for reviewing plans for new buildings to ensure dwellings, offices, schools, hospitals and industrial structures conform to national, state or local regulations. You'll also tour existing structures to determine whether codes and regulations are followed to ensure occupancy, fire suppression, and escape provisions of the law. In short, fire inspectors are a key element in the effort to stop deadly fires before they happen.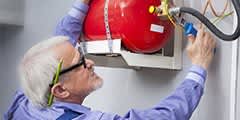 Fire inspectors work for local city, suburban and rural fire departments and districts. According to the U.S. Bureau of Labor Statistics (BLS) reports that local government fire agencies employ 73 percent of all fire inspectors in the land. State governmental agencies hire an additional 17 percent of all working inspectors, with some two percent of inspectors taking roles with insurance companies or attorney's offices.
Fire Inspector

Training Programs

As part of the fire department team, inspectors typically rise from firefighter roles. They may be required to hold a two-year degree or certificate. Most agencies require candidates to hold at least a high school diploma or GED and complete formal post-secondary training programs.

Employment qualifications are established by national firefighting organizations, state government and local fire districts. Typically, you'll need to pass a qualifying examination offered by professional fire service organizations. For example, the National Fire Protection Association (NFPA) provides Certified Fire Inspector I and II/Certified Fire Plan Examiner examinations and training programs in 300 cities worldwide.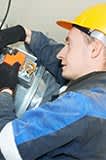 Formal fire science training programs are offered at the certificate, associate, bachelor, and graduate levels. Certificate requirements can usually be completed in less than a year and can comprise the fundamental training necessary for entry level roles.
Fire inspection programs combine classroom and field training. Curriculum can include studies in building codes, investigation protocols, reporting practice, hazardous materials identification and handling, testimony and evidence gathering, and courtroom procedure.
The BLS reports that candidates must also have strong communication and critical-thinking skills, have impartial legal ethics, and be detail oriented. You may be called upon to develop fire exit plans, inspect and test fire detection and alarm systems, and write up and re-inspect violators who must make corrective improvements to their facilities. Compliance safety officers may review hazardous handling procedures, conduct audits of fire suppression gear or review upgrades to existing buildings.
Following completion of formal fire inspector training, you may be required to complete local department courses and successfully complete a probationary period on the job.
Learning

the Ropes

The NFPA lists more than 300 codes and standards used by the fire inspection community to enforce structural integrity and occupation practices that directly impact the effects of fires and other catastrophic hazards. Students focus on fire code, sprinkler installation requirements, testing of water-based fire protection or suppression equipment, life safety and alarm codes. You may learn, for example, how to calculate the occupant load factor for a business structure based on square footage.

During fire inspection training, students are required to conduct field research on practical problems. You might visit a commercial kitchen, assembly hall, school or hospital. Other site-specific field studies can take you to high-occupancy apartment buildings, high-volume storage facilities, industrial or manufacturing structures.

Depending on your career goals, you may wish to obtain NFPA certifications for:
Certified Fire Inspector
Certified Building Inspector
Certified Fire Inspector, II
Certified Fire Protection Specialist
Certified Building Plans Examiner
Certified Fire Plan Examiner
In the West, The National Code Services Association (NCSA) offers training leading to certification examinations. Coursework covers flammable finishes, ventilation, architectural plan review, chemicals and hazardous materials, the Uniform Fire Code, compressed gases, electrical components, sprinklers and standpipes, exit and emergency procedures, lumber yards, and fire control principles.
Advancement in the

Fire Inspection Field

According to the BLS, openings for fire inspectors are predicted to rise by nine percent from 2010 to 2020. The candidates with some paid fire department experience, volunteer experience, and completion of post-secondary fire science training or certification programs.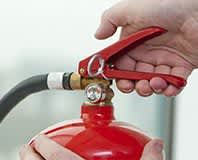 With federal, state and local fire agencies, advancement is typically pegged to a governmental title and pay rate. With on-the-job experience and additional specialized training, you can rise from firefighter or fire lieutenant standing to full inspector or investigator roles. Building codes, construction materials and fire suppression techniques are always evolving. That means ongoing training is a necessity, rather than a professional opportunity.
You may want to further tailor your role to suit the practical requirements of your agency, focusing on fire prevention, plan reviews, code enforcement, public education, or specialties on fire investigation. Some fire science graduates train in arson investigation or forensic techniques.
Ever found yourself in a crowded hall or theater with people packing the aisles? That's where you come in – literally – as a fire inspector. Enforcing critical safety codes saves lives and loss of property. Formal fire inspection training programs can put you where the action is.