The BLS reports that most fire investigation training programs combine an in-class instructional component with field work and research. You'll find curriculum in fire chemistry and physics, investigation procedures, legal and ethical issues, firefighting techniques, evidence gathering and preservation, emergency medical technician training, electrical and vehicular fires, interrogation techniques and arson detection.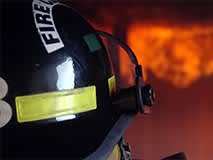 Depending on your program and career goals, you might take courses in home construction and building materials, safe handling of combustible or hazardous materials, fire extraction methodology, psychology, research tools and software, courtroom procedures and testimony. Your fire investigation training program may offer classes in forensic data recovery, marking and transmitting evidence, and case management.
Entrance requirements vary by institution and course level. For some programs (and the state and local departments that hire candidates) require at least some post-secondary education. You may be required to pass a physical examination, drug test, and criminal background check prior to employment. The Bureau of Alcohol, Tobacco, Firearms and Explosives (ATF) may require candidates to hold at least a four-year fire science degree.
Fire Investigation

Careers
Fire investigators work the scenes of extinguished fires to determine which factors led to the blaze. As an investigator, you may gather physical evidence, interview witnesses or building residents, trace the origin of the fire and its causes. Fire investigation training programs offer foundation and elective coursework that prepare you for entering the field.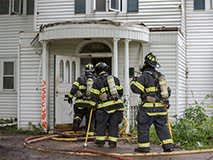 You might choose to work for a public law enforcement agency or fire department, or take a role with the private sector as a fire researcher, consultant, or insurance investigator. The U.S. Bureau of Labor Statistics (BLS) reports that local government and state government agencies employ more than 80 percent of all working fire investigators. Naturally, coursework varies depending upon state or local agency hiring requirements. The National Fire Protection Association (NFPA) also offers certification testing for fire investigators who want to build their credentials. Your employer may require certification prior to employment or advancement.
Developing Professional

Fire Investigation Skills
Fire investigators may divide their time at fire scenes, agency offices and courtrooms. You'll be called upon for strong communication skills, an obsession to details, critical reasoning, and an unbiased integrity when evaluating compliance with code violations or fire causes. You may need to focus on how to prepare for trials. Or, you may need to learn the tricky ins and outs of insurance documentation. You may require additional training to work for some state or federal agencies that have included the use of canine units to help detect chemical causes and fire origins.
Continuing education in fire science combined with on-the-job experience can keep you up to date in fire investigation methodology and qualify you for advancement.
Building Your

Fire Investigation Career
Advancement in rank is typically tied to time-served and training regulations established by the hiring agency. Some professionals may be required to hold lieutenant or captain designations before advancing to investigator roles. Some agencies consider fire investigators part of the law enforcement branch and may require its staff to carry weapons and enforce violations.
Some agencies require new candidates to become a fire fighter prior to seeking promotions or advancement into investigation. Many enter the field through this path. Others begin as volunteer firefighters while they attend formal training programs. The firefighting agency may also send approved hires to state or regional agencies for additional training during the hiring/probationary period.
For those who have already worked in the investigation professions may test for a credential from The National Association of Fire Investigators as a Certified Fire and Explosion Investigator (CFEI). Advanced and master classes are offered across the country for those who wish to specialize in investigating structures burned completely to the ground. You'll learn advanced or emerging techniques for scene excavation and analysis.
Every year, professional organizations such as the NFPA, and the National Association of Fire Investigators offer seminars, workshops and certification prep courses that help you increase your skill sets and focus on specialties within the field.
Arson Investigation

Training
A fire investigator does not necessary follow the same training or career path of an arson investigator. While the fire investigator is concerned with fire causes and origins, an arson investigator is dedicated to demining whether a crime contributed to the incident.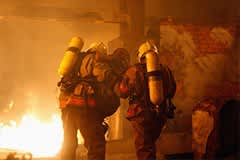 If you're considering gaining qualifications in the arson specialty, fire investigation training programs typically offer coursework in criminal investigations, civil investigations, arson immunity reporting acts and laws, courtroom presentations and financial-loss reporting. ATF arson investigators are required to complete an in-house, two-year program.
The BLS predicts that employment of fire inspectors and investigators will grow by nine percent during the 2010-2020 decade. Best opportunities are expected for candidates who some experience and have completed post-secondary fire science or fire investigator training programs. Discover how a professional fire inspection training program can launch your career.