Fire protection engineering is the study and practice of sound principles in the design and maintenance of space were people work, live, or gather socially. The profession combines fire science and engineering principles with studies in building law, construction materials, investigation and research procedures, fire detection and suppression.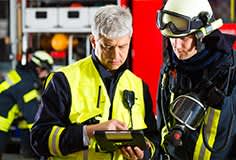 In short, as a fire protection engineering student, you'll concentrate on proper use and occupancy loading of buildings, how fires start, the selection of alarm and sprinkler systems, and emergency evacuation plans and equipment. A qualified engineer works with architects and designers to evaluation construction plans for new buildings. You'll also advise fire departments on emerging firefighting equipment and code requirements.
Depending upon your interest and education, you may design fire detection, fire suppression or fire alarm systems. Engineers also design training manuals, lead classes in technology or procedure, or conduct independent research.
Fire protection engineering students often combine on-staff firefighting experience (paid or volunteers) with advanced training in fire science or engineering to advance in rank to their positions. They work for federal, state and local fire and rescue departments, with the construction industry or with insurance firms. A large number work as consultants in firms that manufacture fire-fighting equipment or supplies.
According to the U.S. Fire Administration (USFA), more than 35 percent of all deaths in occupied buildings are caused by occupants attempting to either control a fire or escape from their dwelling. Nearly 80 percent of residential fire injuries are caused by heat burns and smoke inhalation. Not all commercial, residential or industrial buildings are designed equally to suppress fires or provide adequate escape. According to USFA, 81,070 injuries to firefighters occur every year in the United States, 87 percent of these in structural fires. . Fire protection engineers have a lot of work ahead of them to improve prevention, alarm and escape systems.
Fire Protection

Engineering Training

Curriculum at fire protection engineering schools embraces studies in fire detection, passive and active protection systems, building layout and occupancy standards, psychology of humans during emergencies, escape exits and procedure, fire barriers, smoke management, and risk analysis. You might combine intensive classroom work with field exercises designed to put you knowledge to practical work.

Post-secondary schools offering degrees in fire protection engineering may also require students to study economics, statics and heat transfer, ethics, fluid dynamics, problematic risk assessment, and task force management.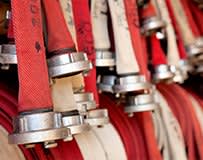 The U.S. Department of Labor reports that fire engineering candidates should have skills sets and knowledge in technology, design, mathematics, building and construction, physics, public safety and security, chemistry, mechanical engineering and government. Technology and research coursework is essential. You'll learn how to compile data, use dedicated computer software to analyze findings, and apply impartial integrity in ensuring buildings comply with safety codes and regulations.
Common tools of the trade include heat sinks. Gas burners, tube furnaces, oxygen gas analyzers, flow transmitters, laboratory box furnaces and calorimeters. You may also undertake intensive training in legal procedures. In addition to learning proper research reporting and legal protocol, you'll learn about state and federal fire codes, court orders, agency rules and regulations, and how to provide impartial legal testimony.
In a research capacity, fire protections engineers may study and compile data on fire retardants, the relationship between ignition sources and building materials, evaluate state or local trends in code compliance and reported fires.
Following schooling, you may seek professional registration. The National Council of Examiners for Engineering and Surveying offers tests that measure competency in fire protection, fire dynamics, fire protection management, passive and active systems, and occupant egress.
Fire Protection

Engineering Employment

The Society of Fire Protection Engineers found that professionals tend to be older firefighters, those with field experience and post-secondary expertise. Nearly 60 percent have earned a bachelor degree; 26 percent earned their master's in fire engineering degree, and four percent c completed a PhD.

Consulting remains the primary business of choice for fire protection engineers, followed in numbers by government (local, state and federal), insurance, industry, fire equipment manufacturing and installation, education and research. With additional education and experience, some fire protection engineers enter management roles in companies or open their own firms.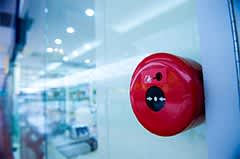 Job and training requirements vary by the state, federal or local agency doing the hiring. Typically, the minimum of a bachelor's degree is required. The Labor Department projects that 82,000 new jobs for fire protection engineers will open during the 2010-2020 decade. Ongoing education can be keys in maintaining your skills and qualifications since fire protection engineering theory and technology are constantly evolving.
Fires are deadly, and costly. The USFA recorded more than 362,000 residential fires in 2010alone. Some 2,500 people died in these fires and financial losses totaled more than $6.6 billion. As a professional in fire protection engineering, you can help lower those numbers and make a difference in the world.