What Are Associate Degrees?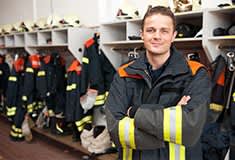 Associate degree programs traditionally follow a two-year, four-semester structure, with a total 60 semester hours required for graduation. Junior colleges, community colleges, online universities and accredited fire schools offer students a specialized, career-focused curriculum through courses held on campuses, at fire academies and via online formats. While curricula and degree requirements may vary widely by educational institution, associate degree programs most commonly include one-third general education classes, a third of major field courses and another third of elective studies.
Fire Science and Emergency Services Associate Degrees
Each state, regional agency, municipal and rural firefighting organization has established formal recruitment requirements for personnel. An associate degree program in fire science provides a well-rounded introduction to studies in fire engineering, fire suppression, fire prevention, code inspection, arson investigation and departmental leadership.
When Does an Associate Degree in Fire Science Make Sense?
Many organizations that employ fire and emergency service professionals require applicants to complete post-secondary training before entering the hiring process. Often, candidates increase their knowledge base through an associate education before applying to fire service organizations where recruitment is highly competitive. For some graduates, the associate degree satisfies basic application requirements for their roles, even if they will attend state fire school or academy after hiring. Perhaps above all, an associate degree can provide the educational foundation for admission to advanced educational programs and degrees in fire science fields such as teaching, departmental management or consulting specialties.
The U.S. Bureau of Labor Statistics reports that:
Firefighters must earn at least a post-secondary award and emergency medical technician (EMT-Basic) certifications.
EMTs must complete at least a post-secondary program.
Paramedics need to complete at least an associate degree to enter the profession.
Fire inspector and investigator candidates with an associate or bachelor's degree in fire science, chemistry or engineering will have the inside track for jobs.
Note: Students going on to a four-year bachelor's degree program should consult with college advisors at current and prospective schools to ensure that they'll receive transfer credits for completed general education courses.
Fire Science Associate Degree Curriculum
A typical two-year associate degree program in fire science allows students to master fundamental principles in the causes of fire, organizational structure, fire behavior, emergency tactics and fire suppression, as well as the basics of urban, rural and wildland firefighting.
General education courses can include psychology, introduction to computer science, chemistry, physics, American government and communications. Here is a sample of coursework in the major:
| Course Name | Description |
| --- | --- |
| Fire Combustion and Behaviors | First-semester overview of the elements that start fires and how fires react to elements including chemicals, materials, temperatures, and fuels. |
| Firefighting Strategy and Tactical Procedures | Fire suppression and attack strategies vary by type of fire, kind of structure, environmental conditions, extinguishing agents and equipment on hand. |
| Protection/Suppression Systems | Overview of types and uses of high-speed power spray systems, sprinklers, water mist and spray, and standpipes. |
| Building Codes and Construction | Comprehensive look at how building design, code compliance, and materials affect fire protection, combustion and suppression. |
| Water and Hydraulic Principles | An exploration of methods, challenges and strategies for the use of water supply systems. Also covers foam and suppression agent delivery. |
| Introduction to Emergency Services | Fire departments and other emergency agencies are organized and managed around a common set of regulations, skills, and emergency services terminology. |
| Fire Prevention Basics | Comprehensive fire safety begins with design oversight, occupant and building trade education, inspections, and code enforcement. |
Online Fire Science Associate Degree Programs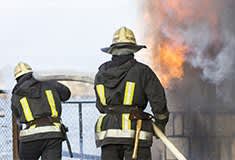 Accredited online associate degree programs in fire science allow students to complete degree requirements if they are unable to attend facility-based courses due to family or work constraints. Online courses contain the same components as on-campus instruction however materials are always available for remote access. Classes are presented through multi-media lectures, email communications, video clips, and timed examinations. Instructors can evaluate student performance through online practice exams and assessment testing.
To meet physical and skill performance requirements, students attend mandatory campus or facility-based sessions for training and testing. Depending on the school and state licensing requirements, this component qualifies students to take any written or physical examinations required to complete professional certification.
College Accreditation
Accreditation is the process by which schools, colleges and universities undergo impartial, professional assessment of their certificate and degree programs. The National Fire Academy (NFA) recognizes accreditations from the six regional agencies approved by the U.S. Department of Education and the Council for Higher Education Accreditation (CHEA).
Accreditation ascertains and protects the value of the degree as well as qualifies the institution to participate in federal student financial aid programs. Junior and community colleges may seek accreditation from organizations such as the Accrediting Commission for Community and Junior Colleges (ACCJC). An accredited fire school or college may add certifications from The International Fire Service Accreditation Congress (IFSAC) and Fire and Emergency Services Higher Education (FESHE). Online schools and programs seek accreditations from the Distance Education and Training Council (DETC) or other online education agencies.
Prospective students should evaluate associate degree program accreditations wisely, contacting college advisors, professional peers and fire organizations to determine the best schools and accreditations to satisfy career requirements and objectives.