About Certificates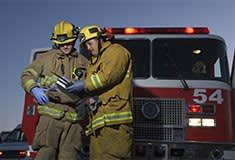 Certificate programs are specially designed to offer targeted training for students entering a new career or for professionals seeking advancements in their current occupations. Ranging in scope from 10 to 30 credit hours, undergraduate certificate programs can provide theoretical and skills training for students seeking an overview of a career field. They can also serve to satisfy employer requirements for entry to the public service professions. The credential is officially designated as a Certificate of Completion (CCL).
Fire Science Certificates
Today's emergency first response and fire service certificate programs are offered by community colleges, fire schools, and online universities. They are not meant to replace requirements for new hires to attend state or regionally designated fire academies — however these college programs can meet state educational requirements for firefighter or emergency medical technician (EMT) certifications. Certificate pathways are comprised of four to ten courses and may be based on Fire and Emergency Services Higher Education (FESHE) curricula.
Certificate programs in fire science focus on theory and tactics in prevention engineering, firefighting, emergency medical services, fire behavior, hazardous materials, and rescue operations. Advanced certificates address issues critical to departmental expertise, leadership and advancement.
Benefits of Earning a Fire Science Certificate
While emergency services organization training requirements can vary from state to state, most public safety entities require all applicants to complete some post-secondary education and career training. Certificate programs can prepare students for employment, for entry into a formal undergraduate degree program, or they may be focused on a single subject, qualifying the student for advancement in specific duties and organizational roles. Unlike programs leading to an undergraduate degree, certificate programs concentrate only on courses in the professional field without requiring students to complete a year or more of general education studies.
Some common certifications include:
EMT
Apparatus Driver
Firefighter
Airport Firefighter
Rescue Technician
Fire Instructor
Wildland Firefighter
Fire Investigator
Department Administration
Students who plan on entering a bachelor's degree program should speak with departmental personnel, certificate schools and four-year colleges to determine which courses will transfer to four-year schools. Some certificate schools have transfer partnerships with degree-granting colleges and universities.
Coursework in Fire Science Certificate Programs
Undergraduate certificates are typically completed between several months and one year, depending on the scope of the program. The following table reveals the range of courses and topics covered in both entry-level and advanced certificate programs:
| | |
| --- | --- |
| Course Name | Description |
| Fire Service Fitness | Overview of the fitness levels required of prospective firefighters, including strength and flexibility, endurance, and movement of fire incident equipment. |
| Firefighting Operations | Introduction to firefighting techniques including use of water and fire-suppression agents, safety procedures, and the use of equipment. |
| Wildland Fires | Exploration of causes, fire behaviors, and techniques for suppressing wildland fires. Includes lectures and labs. |
| Code Enforcement | Course focuses on prevention directly related to model building and fire codes, HAZMAT considerations, structural and materials components, and multiple egress systems. |
| Fire Investigation | Overview of the ignition, spread, and expansion of fires, and how to prepare a location for analysis and investigation. Covers processes for dwellings, commercial and industrial settings, vehicles, and watercraft. |
| HAZMAT Response | Training in the use of protective clothing, respiratory devices, field sampling, spill control equipment, HAZMAT technology, and decontamination procedures. |
| Law and Fire Service | Introduction to laws that impact emergency services, criminal liability, labor regulations, investigatory procedures, worker's compensation, family and medical leave, and age discrimination. |
| Fire Administration | Fire leadership theory and practice for company officers. Studies in government agency coordination, personal and training leadership, incident management systems, and staff assessments. |
Fire Science Certificates Offered Online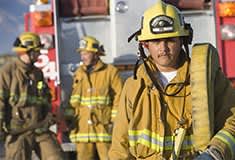 Online fire science certificate programs are specifically designed to meet the training needs of individuals who cannot attend a facility-based program due to family, work, or personal reasons. They can be ideally suited for employed fire science professionals or those with volunteer commitments at public service agencies. One of the key advantages of online certificate programs is that classes are available whenever and wherever the student is located. Lectures, training videos, class communications and resources are all online, accessible day and night.
Online classes that combine lectures with practical, hands-on demonstrations – equipment training, fire scene investigations, and emergency medical procedures –typically schedule those sessions at their online school facility or at a partner fire or rescue organization that participates with their programs.
Why Is Accreditation Important?
Prospective students should examine accreditations by schools, colleges and online universities offering certificate programs in fire science. Accreditation signifies that the intuition meets or exceeds training standards established and monitored by independent agencies and associations that set standards for fire science education.
Students should be aware that courses, degrees, or certificates from schools lacking accreditation may not be accepted by employers or transfer schools. For example, the National Fire Academy (NFA) will only recognize accreditations from one of the six regional accrediting agencies endorsed by the Council for Higher Education Accreditation (CHEA) and the U.S. Department of Education. The International Fire Service Accreditation Congress (IFSAC) is another principal accrediting agency for fire science certificate and degree programs in 41 states. Depending on the school, other accreditations may include Accrediting Commission for Community and Junior Colleges (ACCJC) or online college accreditation from the Distance Education and Training Council (DETC).