Master's Degree Basics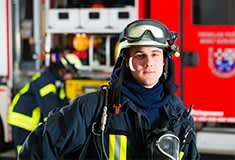 Master's degree programs are designed to provide graduate students the advanced skills in a professional practice or to qualify students for advancement to leadership or managerial positions. Depending on the major field of study and the academic institution, a master's degree program can take between two and three years to complete. Students who have earned an undergraduate degree may transition directly into master's degree studies, or they may work in their field before returning to complete a graduate degree. These advanced credentials are commonly referred to as Master's of Science (MS) or Master's of Arts (MA) degrees. Degree requirements usually include completion of 36-64 semester credits along with a graduate project or thesis.
Master's Degree Programs in Fire Science and Emergency Services
At the master's degree level, fire science and emergency services coursework builds on prior college and departmental experience in fire safety, structural engineering, proactive protection, post-incident investigations and operations management. Students develop leadership skills in fields such as strategic planning, team development, public finance and performance management. Graduates are armed with leadership skills and organizational theory to advance to management roles within fire and emergency service organizations at the federal, state, regional and local levels.
Private schools, fire schools, colleges and universities have created comprehensive master's degree programs in public administration, EMS studies, homeland security, fire engineering and other academic concentrations that build tomorrow's first response officers and leaders. Degrees vary by institution, but the more common names for graduate credentials include:
MS in Fire Science
MS in Fire Management
MS in Public Administration
MS in General Fire Engineering
MS in Fire Protection Engineering
MS in Arson/Incident Investigations
MS in Emergency Services Administration
When Should You Consider a Master's Degree in Fire Science?
Emergency services and fire professionals seeking educational distinction and in-depth specialized training for leadership positions can build credentials for management and niche specializations through traditional and online master's degree programs. Department specialists, chiefs, commanders, human resources and financial officers can qualify for promotions or key leadership roles by earning their advanced degree. Those seeking cutting-edge studies in fields like fire prevention, construction engineering, budgetary planning, and resource allocation will find a master's degree program that meets their educational goals.
Master's degrees can be especially useful for:
Executive Fire Officers and Chiefs
Arson Inspectors and Forensic Specialists
Fire Insurance Managers
Construction Trades Fire Consultants
Emergency and Disaster Preparedness Specialists
It can be common for inspectors, service managers, and educators at the chief level to pursue a master's degree to help qualify for their roles.
Master's-level Courses in Fire Science and EMS
Unlike the four-year coursework of a fire science bachelor's degree, master's degree programs do not require completion of general studies classes outside the major. Students can choose among advanced theory and tactics courses in their public safety or fire science field without having to take a language or biology class.
The following table illustrates the advanced depth of studies at the post-graduate level:
| | |
| --- | --- |
| Course Name | Description |
| Community Risk Reduction | Theory and practice of nationally accepted principles applied to evaluate risk reduction programs, to establish guidelines for success, and implement change. |
| Strategic Issues in EMS and Fire Management | Advanced course in organizational structure, supervisorial best-practices, decision-making, staff and organizational analysis/metrics, conflict resolution, data evaluation, and workforce development. |
| Financial Management of Fire and Emergency Services | Managers are tasked to oversee an effective use of human and financial resources to meet department, division, or agency priorities, service capability and risk-reduction outcomes. Participants learn about seeking, securing and allocating resources, building inter-agency coalitions, and establishing performance standards/goals. |
| Multiple Alarm Command and Control | What are the command officer's tactical responsibilities in emergencies involving complex multi-alarm units? Scenarios include large, multi-unit occupancies, high-rise dwellings and hotels, commercial buildings, shopping malls, community events, wildlands, multiple traffic and rail incidents. |
| Emergency Crisis Communication Skills for Managers | A comprehensive examination of tactics and strategies that managers apply in guiding crisis communications to the public. Includes public relations research, stakeholder messaging, law-enforcement and inter-agency communications, and targeted community response. |
| Performance-Based Structural Design | Studies into the significance of and differences in performance-based building design and prescriptive-based design models. Topics include coordination of design reviews by building officials and fire agencies, best-performing engineering methods, and evolving requirements over the structural life cycle. |
| Capstone in Strategic Management | Advanced directed studies in assessment, goal setting, strategic formation and implementation, change management, and leadership theory for public service and non-profit organizations. |
Online Fire and Emergency Response Master's Degree Programs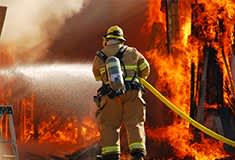 Distance learning in the fire and emergency services sector provides students with an asynchronous education, readily available in a 24/7 format. At home, in the office or at a coffee shop, accredited online master's degree programs in fire science deliver all class materials to the location of the student, wherever they may be. Graduate students conduct all class transactions online, accessing email, chat rooms, multimedia tools, tests, and instructor-led presentations at their convenience. However, online programs are as rigorous as traditional college courses, requiring online students to establish and maintain routine hours for progressing through the curriculum.
The online format is often familiar to master's degree students who may have already completed undergraduate work or departmental training via the internet. No special hardware or software is required to participate.
Why Choose Colleges and Schools with Accreditation?
Accreditation is the voluntary assessment undertaken by schools, colleges and universities to ensure the academic quality of their programs. Fire and emergency service administrators can be especially wary of degrees or certificates offered from schools that lack professional accreditation or are considered diploma mills.
Accreditation from an impartial, qualified association or fire education organization can be critical to the acceptance of the degree, its lasting value in the workplace, and availability of federal student aid programs such as student loans and grants. Nationwide, there are six regional accreditation bureaus that are recognized by the U.S. Department of Education and the National Fire Academy (NFA). The Council for Higher Education Accreditation (CHEA) advocates for the self-regulation of academic quality for its 3,000 members from U.S. colleges and universities.
Online degree schools that have regional or national accreditations may also seek accreditation from the Distance Education and Training Council or similar agencies to benchmark their distance learning programs.